True Performance
We offer complete entry door system solutions with components designed to work together to provide security, energy efficiency and reduced air and water infiltration for longer-lasting, higher-performing entryways.
It's more than the door. Our entry doors are the top choice of builders, contractors and homeowners in the Cookeville area. From innovation and design to testing and warranties, our systems are engineered to work together to meet our high specifications for smooth, reliable performance.
More Than A Door
1

Composite Adjustable Sill
Adjustability allows for an air-tight seal with door bottom to prevent moisture damage on inswing applications. Outswing installations utilize a high-profile composite outswing sill. Composite material won't rot, warp or split.

2

Ball-Bearing Hinges
Heavy-duty hinges with ball bearings between each hinge pivot, or "knuckle," provide more support, stability and smoother performance.

3

7-Shape Corner Seal Pad
Unique 7-shape pad creates an air pocket to help prevent moisture and air infiltration.

4

Dual-Bulb Bottom
Dual-bulb design on inswing systems works with weatherstrip and corner seal pad to help prevent moisture and air infiltration.

5

Foam-Filled Compression Weatherstrip
Remains flexible and helps seal against moisture and air infiltration.

6

Rot-Resistant Brickmould & Jambs
Made of durable rot-resistant material that helps prevent moisture-related rot, insect damage, warping and twisting.

7

Security Strike Plate
Proprietary adjustable security strike plate withstands up to three times the force of a standard strike plate.

8

Finished Jamb Options
Choose from a painted scratch-resistant aluminum clad (available in 16 colors), or a stained solid hardwood to match or complement your door.
Nex-Gen Frame System
A continuous head and sill gives a clearer, stronger appearance on sidelite mull units.
Prefinished Interior Casing
Interior wood casing available in Pine, Poplar, Oak or Mahogany finished to complete your entrance system.
Full System Warranty
Our entry doors are accompanied with a complete system of components that were designed and engineered to work together to provide lasting performance, security and energy efficiency. And all this is backed by a full system warranty.
---
Classic-Craft® Door Systems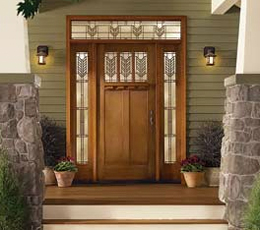 Our top-of-the-line product, the Classic-Craft® family of doors, features solid wood edges, embossment details and more than 26″-wide center panels. Classic-Craft® doors are available with premium hard wood graining brought to life by our patented technology or with a smooth, paintable surface for a sleek, modern look.
Product Offering
Five unique collections (American Style, Mahogany, Oak, Rustic & Canvas)
Exclusive glass families (ArcadiaTM, Augustine®, CambridgeTM, LongfordTM, LucernaTM, ProvincialTM, Granite, Rainglass, Simulated Divided Lite, HomewardTM)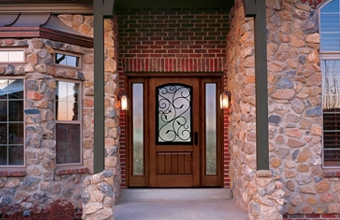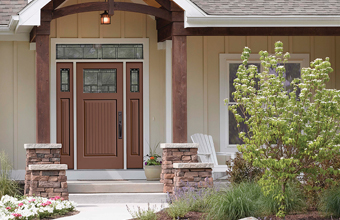 Architectural Character
25% wider panels
50% deeper embossments
More than 10% larger glass
Flush-glazed sidelites
Matching fiberglass lite frames
Solid square hardwood edges
Non-finger jointed hardwood edges
Heavier Construction
22% heavier construction
Top and bottom composite rails
Up to 50% thicker fiberglass skins
4- 1/8″ LSL lockstile for added weight
---
Fiber-Classic® Door Systems
The industry's first fiberglass door. The line features two collections—Mahogany and Oak. With both, you can customize your entryway with doors that embody deep, wood-grained detailing for a look that delivers beauty and elegance that will stand the test of time.
Smooth-Star® Door Systems
Smooth-Star® doors are the perfect answer when the best look for the home is delivered in a sleek paintable package. The more attractive and durable alternative to steel, Smooth-Star® entryways are ready-to-paint with crisp, clean contours that resists dents, dings and rust.
Fiber-Classic® & Smooth-Star® Decorative Caming Options
Maple Park

Water glass, clear bevels, granite glass and brushed nickel or black nickel caming.

Wellesley

Clear baroque, water and granite glass, clear bevels and black nickel, brushed nickel or brass caming.

Crystal Diamonds

Glue chip glass, clear bevels and brass caming.
Clear Low-E & Solid Panel

Clear Low-E glass can be fitted with a variety of divided lite options or cordless internal blinds to tailer the look of your entryway. Factory-coated Clear Low-E glass delivers exceptional energy efficiency that can help to reduce energy costs.

Fixed & Internal Grids

Grids between glass (GBGs) can be customized with contour or flat bars and three color options to complement wood-grained, stainable, smooth and paintable doors and sidelites. Grids are thermally sealed between two panes of Clear Low-E glass allowing for easy cleaning.
Fiber-Classic® Color & Hardware Options

*Colors not available in aluminum cladding.
Colors shown here may vary from an actual application due to fluctuations with screen color display settings. See your representative for actual color samples.

| | | | | | |
| --- | --- | --- | --- | --- | --- |
| | Satin Nickel | | Aged Bronze | | Brass |
---
Ready to update your home with a new, curb-appealing entry door? Contact us today to schedule your free in-home estimate!